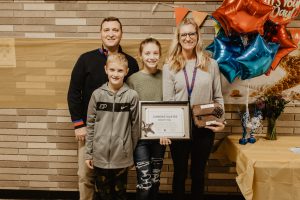 Mandy Hall, speech-language pathologist in Lewis Cass Schools was awarded the PATINS Project's Starfish Award as well as the Key to the Community for her dedication to ensuring all students have access to high-quality communication systems so that they can participate in the educational process and in their community at large. Mandy stays current with the latest Alternative and Augmentative Communication (AAC) research to support families in funding devices and collaborates with general education teachers so that all students have a voice.
The PATINS Starfish Award is presented to educators who go above and beyond to meet the needs of all of their students through Universal Design for Learning, the implementation of Accessible Educational Materials and Assistive Technology, in order to be meaningfully included in all aspects of the educational environment.
Mandy has worked as a speech language pathologist for sixteen years serving students ranging from preschool through high school as well as volunteering her time to support the communication needs of an adult in the community.
Only fourteen other Indiana public school educators have received the Starfish Award. Mandy's colleagues note that she starts every day with two goals in mind – to focus on her students' academic needs and to help them build meaningful relationships with others.
The PATINS Starfish Award was presented by Jen Conti from the PATINS Project and Rick Lee, Town Manager, presented the Key to the Community on Monday, December 6, 2021 at Lewis Cass Elementary. Mandy was surprised with a parade walk where all of the elementary students cheered for her in the hallways!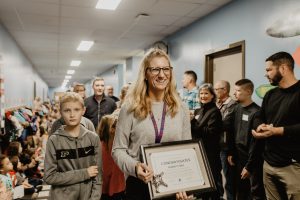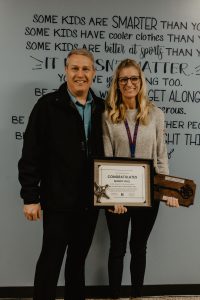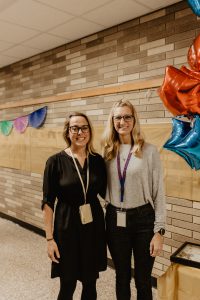 This culminated in a ceremony, which included personal congratulations from Mandy's family, present/former students and their families, colleagues, and the school Superintendent, Dr. Tim Garland. According to Mandy, the motivation behind her work has always come from determining what is best for the students in the Lewis Cass Schools community.
 Mandy will also have a video feature in the PATINS Pages eNewsletter.
The PATINS Project is a state-wide technical assistance network that connects Indiana's local education agencies (LEAs) to Accessible Educational Materials, Assistive Technology, Professional Development & Technical Support through the Indiana Departments of Education and Administration. Their mission is to help to support Indiana public schools in creating and sustaining an equitable learning environment for every student through universally designed access, engagement, and participation. To learn more about their no-cost services, visit www.patinsproject.org.
See the PATINS blog post regarding Mandy and her accomplishments here.